System eMerkur - Process analysis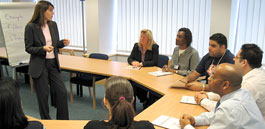 Analysis of process statuses, needs, gap analysis.
We are focusing analysis to maximize potential together with minimization of investment. During analysis we have continuous dialog to focus on areas which are current pain. Ensured service is customized in reference to your actual needs. We monitor actual evolution in related areas and bring it to you proactively to ensure maximal advantages.
How is it working?
Analysis is started by basic workshop wih aim to tentatively map process range of your organization. Also there is necessary to ensure data for getting information about the most frequent activities and processes which give an information about the most expensive processes in your organization and identify candidates for possible optimalization. In process analysis is recommended to define improvements in ration 80/20. It means 80% effect with using 20% effort.
What is an output?
Main output is document describing process models in your organization including setup of measurement points and concrete metrics with definition of metrics for management, performance, effectivity, sensitivity and capacity.